Vitamins in a Vegan Diet
Over the next couple of days I'm going to share a "where to get your vitamins" post for vegan living. Besides the protein/carbs/fats (macronutrients), your body needs so much more to keep it running. Check out any one of my posts that discusses food vitamins/minerals like Sexy Lettuce: Romaine, Sexy Lettuce: Collards, and Smoothie Time.
Today I'll focus on 3 vitamins and minerals that are essential for health but might be criticized in a vegan diet. In a traditional American diet, these V&Ms are MOSTLY found in animal products. But there are plenty of sources in plant-based diets, you just have to know where to look.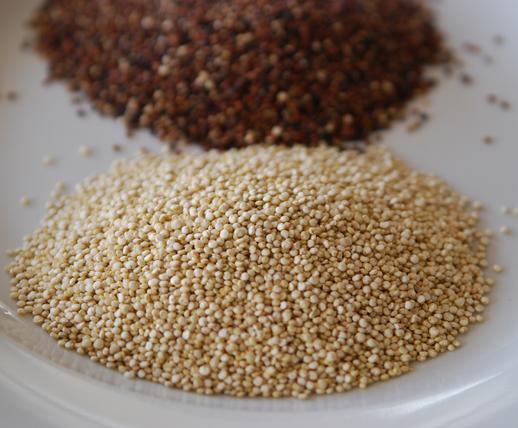 Iron in Vegan Diet: Nuts, seeds, pulses, grains, dried fruit, sea vegetables, parsley, green leafy vegetables, molasses, miso: SPECIFICALLY, soy beans, lentils, spinach, and quinoa (picture).
Zinc in Vegan Diet: Wheatgerm, whole grains, nuts, pulses, miso, peas, parsley, bean sprouts: SPECIFICALLY: alfalfa sprouts, pumpkin seeds, chickpeas, and tahini.
Vitamin D in Vegan Diet: Vitamin D can only naturally be absorbed by the sun. The Vitamin D in milk and other fortified products is ADDED, not natural (contrary to popular belief). Vegan options, in my opinion, are unhealthy ones (like soy-milk and fortified foods). My first advice would be to get outside and absorb it! That's fun and easy. However, recent studies have shown that in recent years Vitamin D absorption from the sun is down (notably D3). We don't really know why (pollution?). But it's making it harder to get this essential vitamin. For this reason, I would actually recommend a high quality, organic Vitamin D supplement. If you are weary, do a diet analysis (by a paid professional or website) and see if a supplement is right for you.
I hope this is helpful. Check in again for more V&M talk (Vitamins Part 2), another Sexy Lettuce post, and info on my spring cleanse